Your tax-deductible contributions to the Phoenix Quartet are vital to our present and future success. Our achievements have been possible only through the generosity of donors who share our commitment. We invite you to add your support to our efforts with a gift to the Phoenix Quartet.

Support The Phoenix Quartet

Donations via check:

(Please include your name, address, telephone number and email address.)

The Phoenix Quartet

233 West 99th Street, Suite #5A

New York, NY 10025

Vocal music is an especially powerful form of communication that can encourage a better understanding of the struggles and achievements that define people and can develop values that sustain people in life's experiences. 

It has a unique power to create community.  Throughout its rich cultural history and directly because of its melding of poetry and music, vocal music has had a place in all celebrations of life -

to herald new life, mourn the passing of life, mark holidays, and to explore the human condition.

For repertoire and booking information, please contact Debra Poulter, Artistic Director

Phoenix Quartet

(212) 222-2064 or click here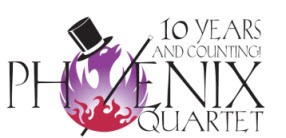 The Phoenix Quartet Mission

The Phoenix Quartet believes that song, with its melding of poetry and music, creates community and celebrates life. 

We are dedicated to commissioning and performing music composed or arranged for vocal quartet.