VIRGINIA BROBYN (Advisory Board), an original member of the Phoenix Quartet board, moved to the advisory board in 2006.  A retired opera singer (New York City Opera, San Francisco Opera, Washington Opera), she is currently a teacher of English as a Second Language at LaGuardia College and Westchester Community College.  She also tutors private students for accent reduction, business English, presentations, and cultural acclimation and edits information publications for foreign law firms, and for a legal website.

SHARON KRISTENSEN DEMERE (Advisory Board)
is the Founder and President of
Organization Plus
, a Silicon Valley-based firm specializing in the organizational needs of businesses and individuals.  In 2003, she received certification as a Project Management Professional, extending her vast networking skills coast to coast and extending her vast organization expertise to the management of home remodels ...
Before, During and After
.
KAREN KETTERING DIMIT (Advisory Board)
is a singer, conductor and artist, who taught at California State University, Northridge, and has performed in recitals and operas, most recently in Boston. She maintains a sculpting studio in Tribeca. Her website is:
www.homepage.mac.com/kkdimit
NOMI TICHMAN (Advisory Board) enjoys success in many areas of the entertainment industry.  She is an actress (off-Broadway, regional, tours, television and films), a singer, voice teacher and vocal coach.  She combines her own creative talents with her vast experience networking within the industry in her work as a casting director and also as a board member of an avant garde theatre company, Peculiar Works Project.

PETER TRIPPI (Advisory Board) is editor of Fine Art Connoisseur, the bimonthly magazine that serves collectors of historical and contemporary representational art. He is also president of Projects in 19th-Century Art, Inc., the firm he established in 2006 to pursue a range of research, writing, and curating opportunities. As director of New York's Dahesh Museum of Art, Trippi guided its presentation of nine exhibitions of 19th-century European art. In 2002, Phaidon Press published Trippi's monograph J W Waterhouse, which reassesses the Victorian painter best known for his Lady of Shalott at Tate Britain. Trippi went on to guest-curate the Waterhouse retrospective that appeared 2008-2010 in the Netherlands, England, and Canada.

Board of Directors

Gregory Dimit

Linda Tempel

Lynn Weddington Tucker

Advisory Board

Virginia Brobyn

Sharon Kristensen Demere

Karen Kettering Dimit

Lisa Kressbach

Nomi Tichman

Peter Trippi

GREGORY DIMIT
(
Treasurer
) is a Managing Director of
Colchester Partners LLC
a firm of investment bankers based in Boston and New York.  His 30-year career includes 10 years as a CPA with Price Waterhouse in Los Angeles, London and Boston followed by 20 years working in a variety of roles in the investment management industry. As a pianist, he works with a number of singers and vocal groups as a collaborative artist and coach. He has served on the Boards of both the John Oliver Choral and the Community Music Center of Boston. He hosted and performed in a number of musical fundraisers for the Community Music Center and led their recent successful capital campaign.
LINDA TEMPEL, M.S., M.B.A. (President)
is Executive Director of Developmental Disabilities Services at
HeartShare
Human Services of New York.  She has more than 30 years of experience in the non-profit field serving in numerous administrative capacities with expertise in marketing, public relations, and fundraising.
LYNN WEDDINGTON TUCKER (Secretary) has been a stay at home mom since 1995.  Previously, she was a partner in the public relations company, Tobin and Tucker.  In 1983, she founded Mountain Laurel, a childrenswear company based in her native Kentucky after having served as Director of Public Relations for Dan River, Inc.  Lynn is not a musician --- but is an enthusiastic supporter of the New York City Opera, the Glimmerglass Opera and the Cooperstown Chamber Music Festival.  Lynn is a Trustee of Park Avenue United Methodist Church; Chairperson, Park Avenue Methodist Day School Committee; a sustaining member of  The Junior League of the City of New York.

Vocal music is an especially powerful form of communication that can encourage a better understanding of the struggles and achievements that define people and can develop values that sustain people in life's experiences. 

It has a unique power to create community.  Throughout its rich cultural history and directly because of its melding of poetry and music, vocal music has had a place in all celebrations of life -

to herald new life, mourn the passing of life, mark holidays, and to explore the human condition.

For repertoire and booking information, please contact Debra Poulter, Artistic Director

Phoenix Quartet

(212) 222-2064 or click here
The Phoenix Quartet is a 501(c)(3), not-for-profit corporation and donations are tax-deductible as determined by law. 

The Phoenix Quartet is a 501(c)(3), not-for-profit corporation and donations are tax-deductible as determined by law.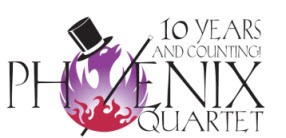 The Phoenix Quartet Mission

The Phoenix Quartet believes that song, with its melding of poetry and music, creates community and celebrates life. 

We are dedicated to commissioning and performing music composed or arranged for vocal quartet.