This ensemble performs as enthusiastically on the concert stage as it does in an intimate master class setting.

The Phoenix Quartet performed an energetic and uplifting concert for the music students at Tappan Zee High School. 

What people are saying about

The Phoenix Quartet

Russell Wagoner

Tappan Zee High School Music Department

Orangeburg, NY

We would like you to know how much we enjoyed Sunday's performance by the Phoenix Quartet....passionate, powerful, yet balanced and nuanced.  We came away with a feeling of having experienced music in a new and  intimate way.   Thanks very much.  

Rob Miss & Judith Millman, Phoenix Quartet Friends and Sponsors

South Country Concerts scheduled the Phoenix Ensemble to open our sixth season - the concert was sold out!  Their high artistic standards, diverse repertoire and engaging on-stage demeanor charmed our audience.  And from a presenter's vantage - they could not be easier to work with. Two thumbs up! 

Lauri Owen

Artistic Director

South Country Concerts

The Phoenix Quartet is as fearless as it is musical.  They took on a new choral piece of mine, The Open Door, never conceived for solo voices, and proved that it could work – in fact, made it a new work of laser-like clarity and beauty.  Their singing from memory, their subtle but telling stagings, and their commitment to new music further set them apart from chamber groups of any kind.  I will follow their development avidly.

Wow!  I hadn't heard of the Phoenix Quartet before, but I won't forget them or their music.

Musician, Recording and Mixing Engineer,

Owner of Mirror Image Recording Studios

Vocal music is an especially powerful form of communication that can encourage a better understanding of the struggles and achievements that define people and can develop values that sustain people in life's experiences. 

It has a unique power to create community.  Throughout its rich cultural history and directly because of its melding of poetry and music, vocal music has had a place in all celebrations of life -

to herald new life, mourn the passing of life, mark holidays, and to explore the human condition.

For repertoire and booking information, please contact Debra Poulter, Artistic Director

Phoenix Quartet

(212) 222-2064 or click here
The Phoenix Quartet is a 501(c)(3), not-for-profit corporation and donations are tax-deductible as determined by law.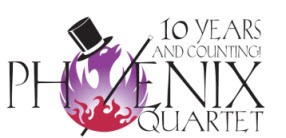 The Phoenix Quartet Mission

The Phoenix Quartet believes that song, with its melding of poetry and music, creates community and celebrates life. 

We are dedicated to commissioning and performing music composed or arranged for vocal quartet.